Bravo at Mahjong! is the seventh episode of the second season of the Girls Bravo Anime Series and the eighteenth episode overall.
Characters
Edit
To bring an end to Tomoka's boredom, Fukuyama starts a "unique" game of Mahjong involving dares and questionable clothing. Things get bad when not only is Kirie at risk of being humiliated, but Yukinari is threatened by Kosame into helping Kazuharu cheat.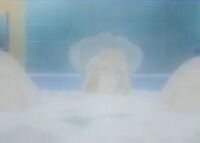 The movie shown on the TV was an animated parody of the bath scene in the film "Nightmare on Elm Street". The monster even has a claw and says "Welcome to my nightmare," much like the monster of the film, Freddy Kreuger.
When Kirie complains about having to dress up as Poyon, an anime character Tomoka is a fan of, Yukinari references the previous episode event where Tomoka beat up a fat male cosplayer that impersonated her.
For a short while, Fukuyama wears a Superman shirt under his coat. It is mostly hidden(possibly to avoid legal conflicts), but it is clear to see that the shirt is blue and has a red and yellow angular symbol.
In the scene where Kirie and Koyomi were yelling at Yukinari for cheating, Yukinari is seen wearing a shirt depicting the flag from the Dominican Republic.