Miharu Sena Kanaka is the deuteragonist from the Girls Bravo manga and anime series and one of the series' central characters. She has a form of the Star Mark on her forehead.
Biography
Edit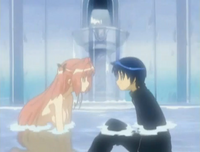 Miharu was first associated with Earth when she saw images of Yukinari Sasaki in her bath. She believed he was the one person for whom she had waited so long. She meets him when she accidentally transports him to her bathtub in Seiren. Her innocence and playful character prevent her from panicking despite her being fully naked in her bath. Later, after evading all the crazy citizens of Seiren, she then transports back to Earth along with Yukinari, where she stays ever since. At the beginning of the series when she meets Yukinari Sasaki, she almost immediately thinks of him as a close friend, but throughout the series her feelings for him grow stronger and she has shown that she has deep feelings for him. At times it has been natural for her to show jealousy when a girl takes Yukinari away from her or is in a perverted situation with him, but it is usually rare to see her jealous. Oddly, she didn't seem upset when she saw Yukinari in bed with Yukina in the anime. This is because she knows that Yukinari loves her just like she loves him. At the end of the manga series, Miharu marries Yukinari (which now makes her Miharu Sena Sasaki) and they're living happily ever after on Earth, much to her delight.
Who are you? What is your name? What is your favorite food? JUST WHERE... ARE YOU? -Miharu Sena Kanaka
The name Miharu means "beautiful" (美) or "sea, ocean" (海) (mi) and "light, sun, male" (陽), "spring" (春) or "clear weather" (晴) (haru).

It can also mean "beautiful clear sky".

Miharu's middle name Sena could possibly mean "This world's beauty or grace; army", "to praise", "bringing heaven to earth", "army", "missile", "goddess of the moon" and "blessed".
Miharu's surname Kanaka means "play music, complete" (奏) (kana) and "summer" (夏) or "flower" (花) (ka).
Miharu's favorite TV show is: Have stomach; Will Travel
External Links
Edit
Community content is available under
CC-BY-SA
unless otherwise noted.